My 1964 Impala Restoration
Back to the long version
Back 1982, I was 21 and my cousin Larry came to town from Northern California. He had a gift for my family, a 64 Impala. After the drive from Marysville to Anaheim, he called it a "tuna boat". With the soft suspensions popular back then, that is an accurate way to describe it, although Chevrolet liked to call it a "Jet Smooth Ride". It had been my mom's, brother's, wife's, father's car (grandfather in-law?). At the time I was using my dad's car, a 70 Impala. My dad gave me the choice of having either the 70 Impala or the 64 Impala as my very own! I thought about it for a while and decided I liked the old 64 better. At 18 years old, the 64 Impala was making the transition from being "old and out of fashion" to being a bit nostalgic. Part of owning my own car was getting my own insurance (much to my parent's relief). I went and signed up with AAA auto insurance and have been with them ever since.
I can remember the first time I drove the 64 Impala, I was a bit concerned that it did not shift into 3rd gear. I had never heard of a Powerglide 2 speed automatic transmission. The car had about 70,000 miles on it when I got it and throughout the 80's I drove the 64 Impala everywhere, to the tune of 140,000 more miles, taking it up to 210,000 miles. In the late 80's I replaced the original 283 engine with a 327, and promptly broke the crankshaft. I then decided I wanted more power and had a 383 stroker built with a TH350 transmission. But with this and other things breaking now and then, I decided in 1991 to get a new car and not be subject to cycling to work every time the Impala was in the shop for repairs. So I got a 91 S-10 truck as my primary vehicle and the Impala was used for fun driving. But by now the exterior and interior were getting pretty shabby and it was not as fun to drive as a result, so it slowly became less and less used. But all along I knew I should never get rid of it. That would be the sort of thing that I always heard old folks saying they regretted. By 2009 I was getting tired of having the Impala taking up space in the garage with no real benefit. So I decided to fix it up and enjoy it instead of just using it as a storage shelf in the garage.
Me and my 64, back in the late 80's. We were both in better condition back then.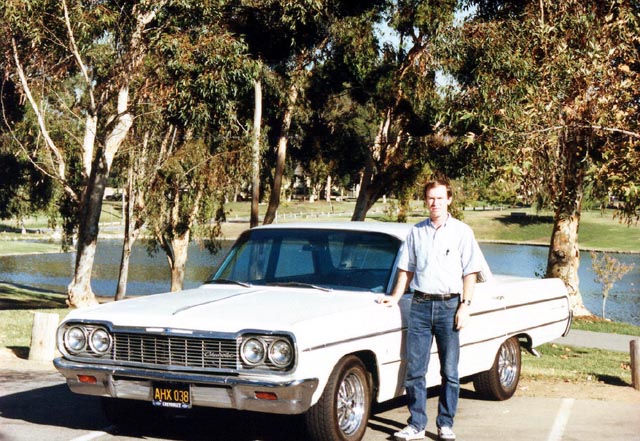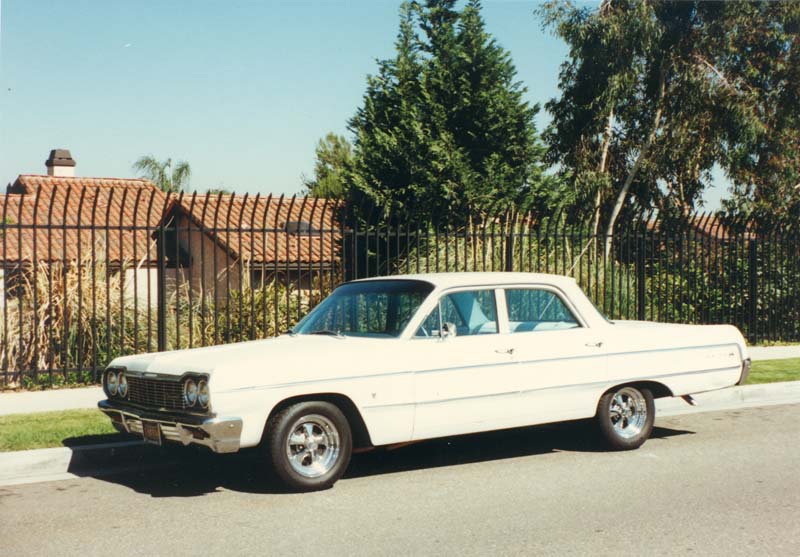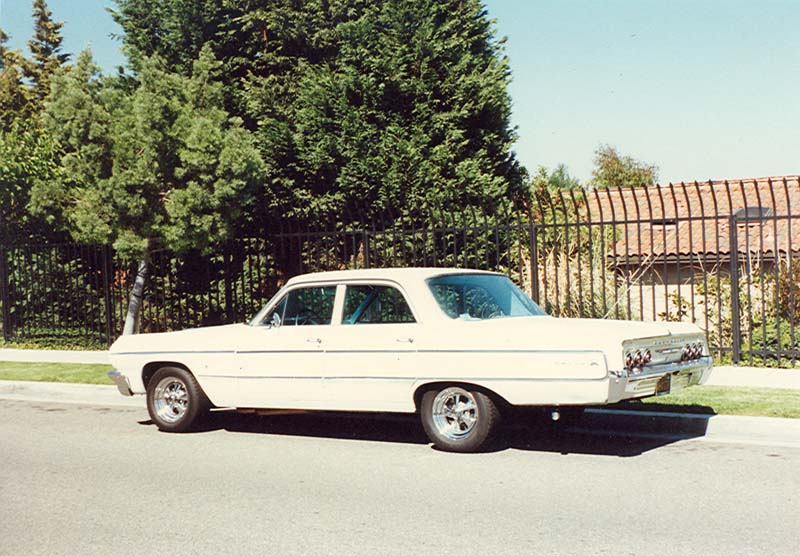 The 1970 Impala that I passed up in favor of the 1964 Impala.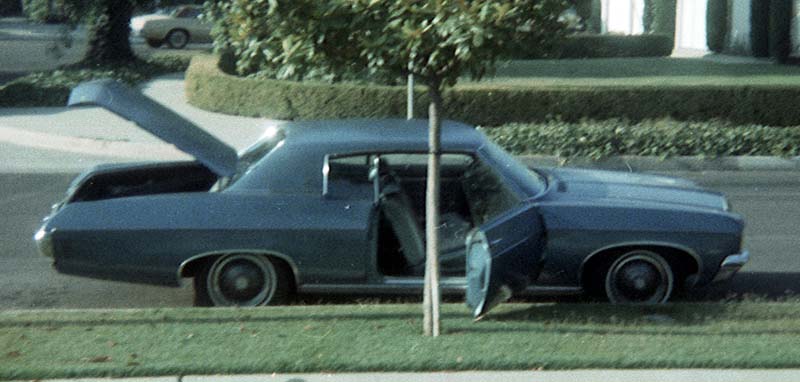 ==========================================================================
Oct 2009 - Yeah, there is an Impala in there somewhere. First I will need to clean the garage up so I can get to the Impala.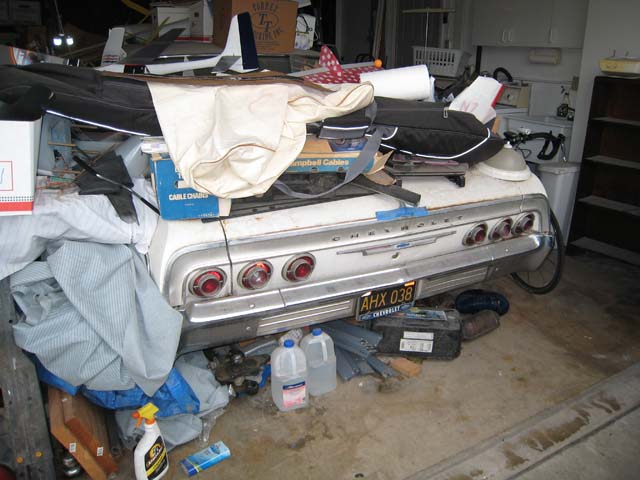 Oct 20th 2009 - Freed from the pile of junk in the garage. I pumped some gas into the carburetor, and cranked it up, started up fairly well, if a bit rough. Drove it to a couple of shops to get an estimate on the paint, rust and body work. First shop said $10k or more, second shop said $6k-$7k. The first shop had a 65 Impala that had been painted the same color as my Impala. It looked really nice Really whetting my appetite for getting my Impala painted.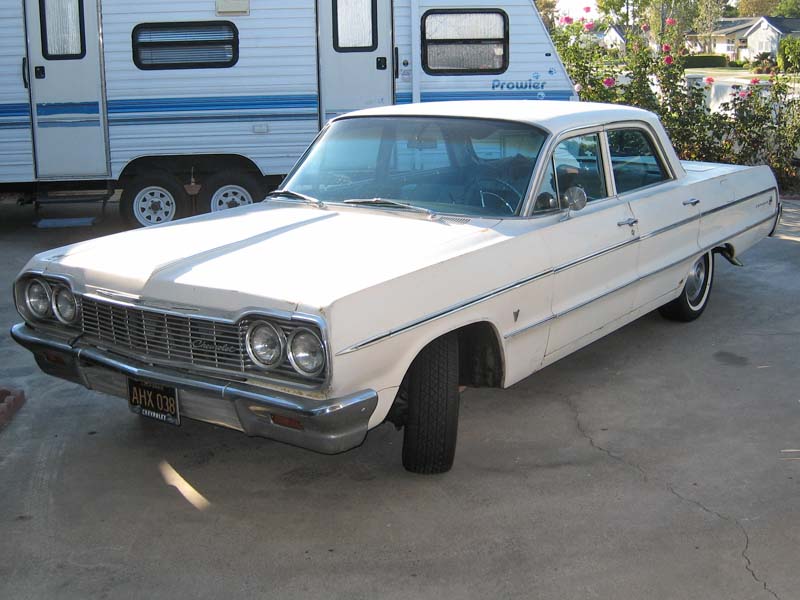 Originally the Impala had a 283 engine. In the late 80's I had a 383 stroker built for it. I also did a front disk brake conversion. Now it all looks so shabby and not quite right for a 64.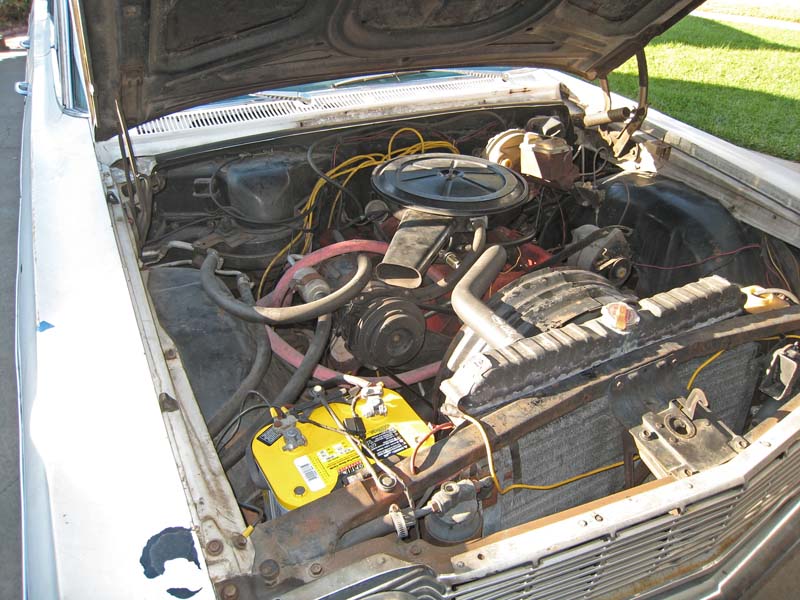 The interior needs a lot of help too.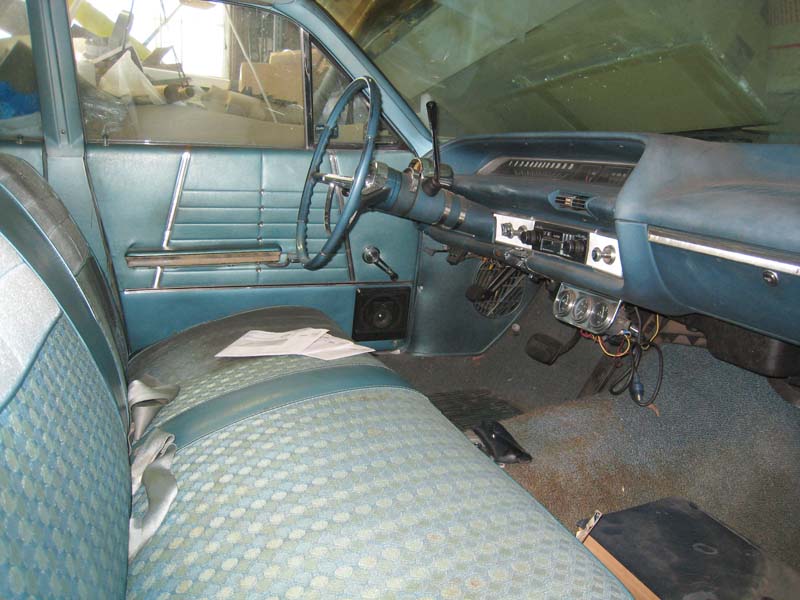 Underneath, things look even worse. The exhaust is all rusted out.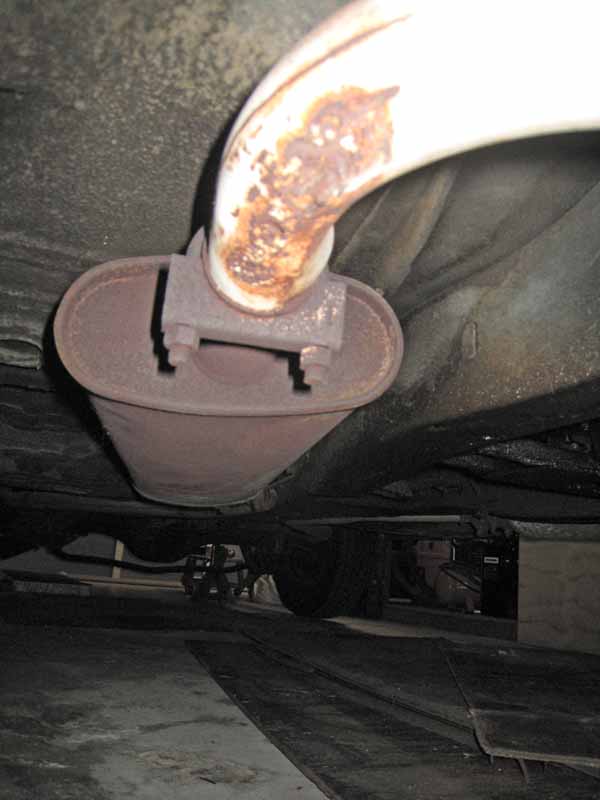 Power steering has been leaking for a long time.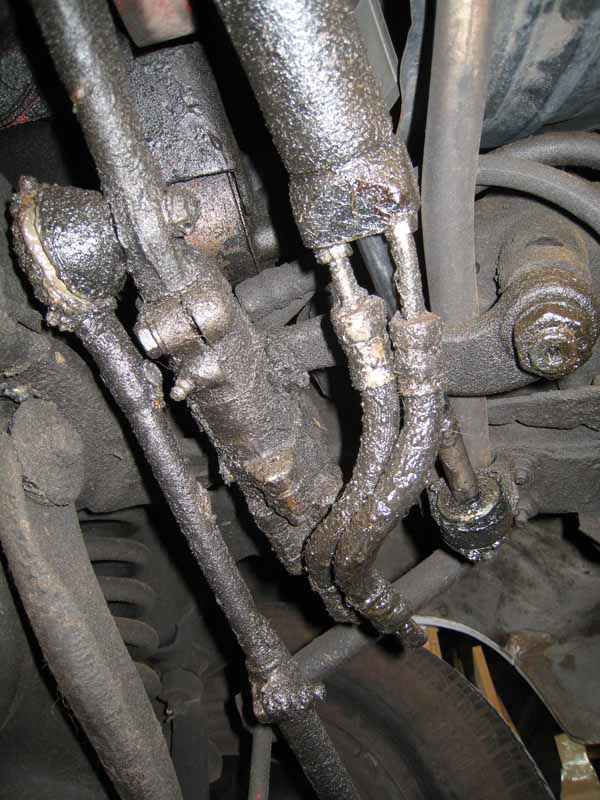 Transmission is leaking a lot from the speedo connection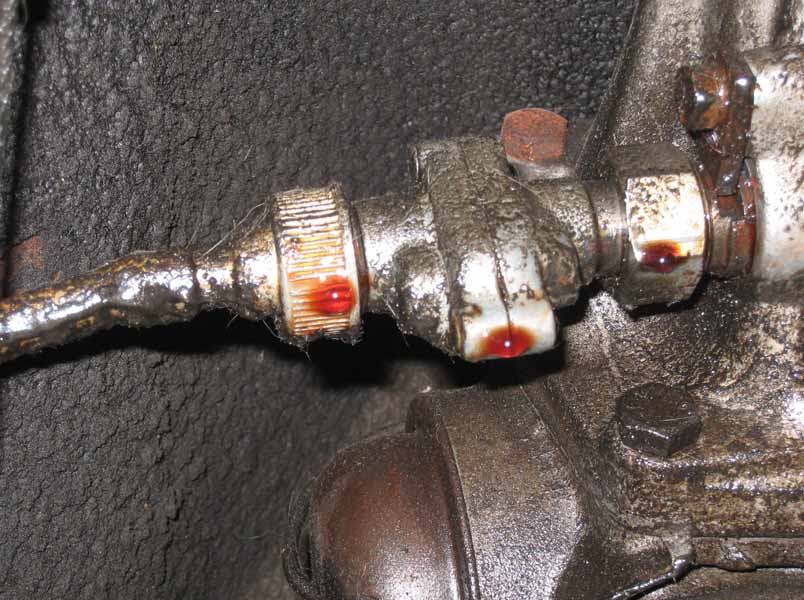 On the bright side, there is not much rust to deal with on the underside of the body.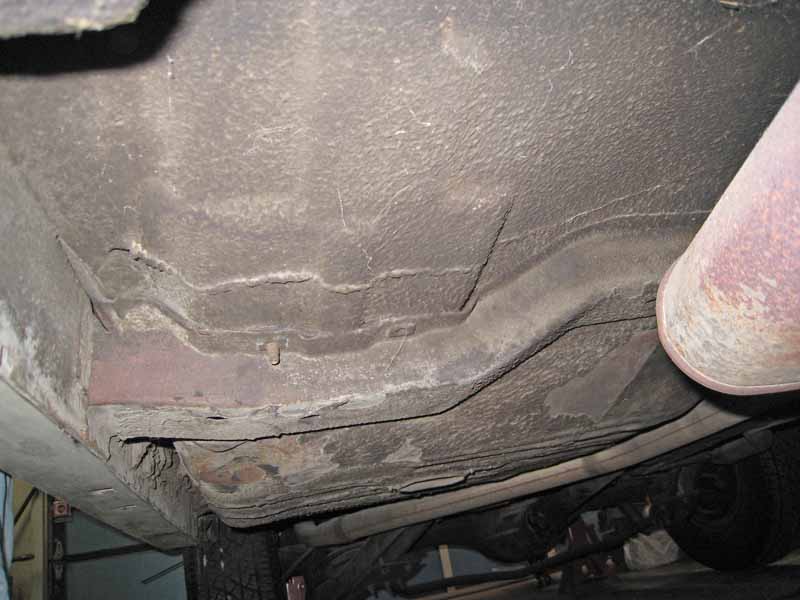 Nov 27th 2009 - I was wondering why the blower motor was vibrating and not putting out much air, so I took it out to see what was going on. Raked the leaves, sanded the rust, and spray painted it all back to a nice black inside and out. Now it blows lots of air.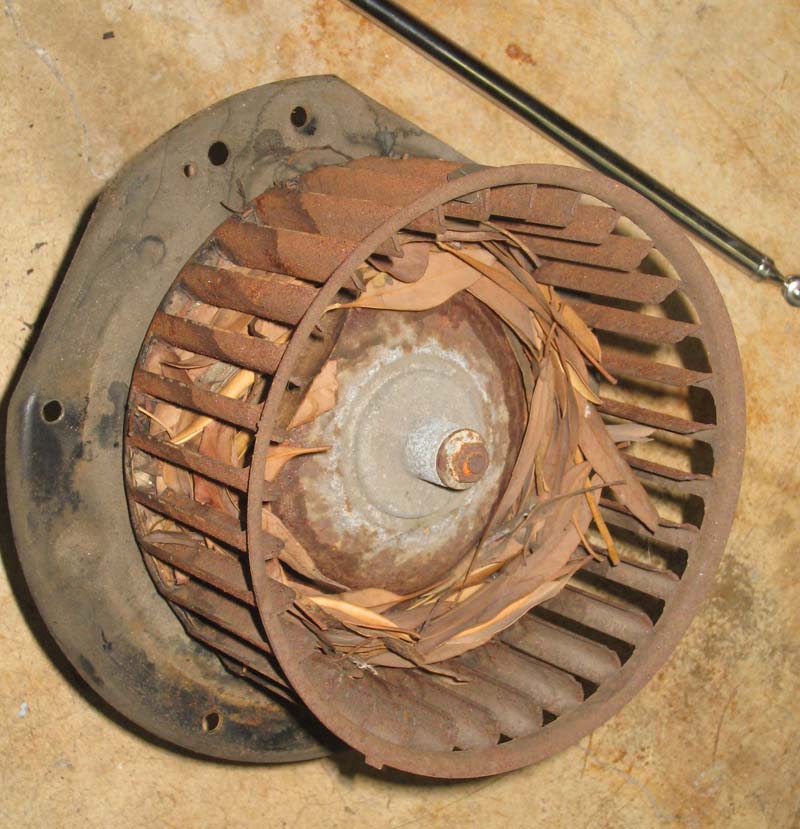 Going through my shop manual, I found this 'Build Sheet'. I had saved it in the shop manual when I had the seats reupholstered back in the mid 80's. You can see where the seat spring abraded it's way through the paper.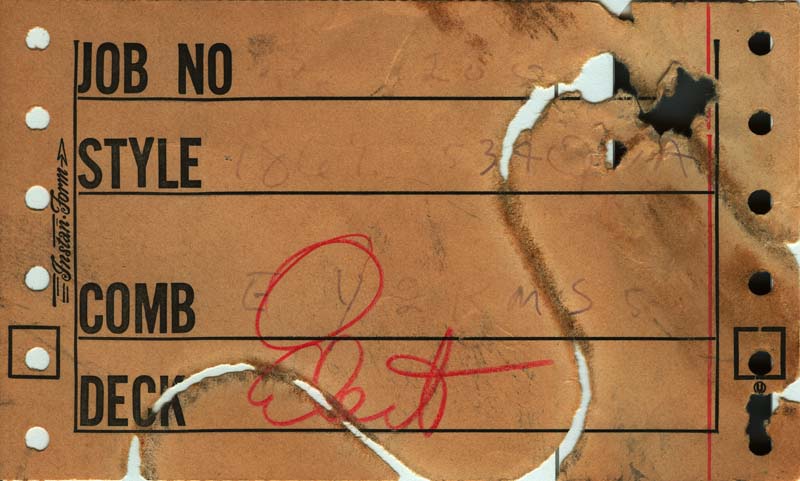 Dec 2nd 2009 – I had and AM Radio Converted to AM/FM/Aux input. vintageautoradio.com did a nice job of cleaning up this somewhat rusty ebay dog.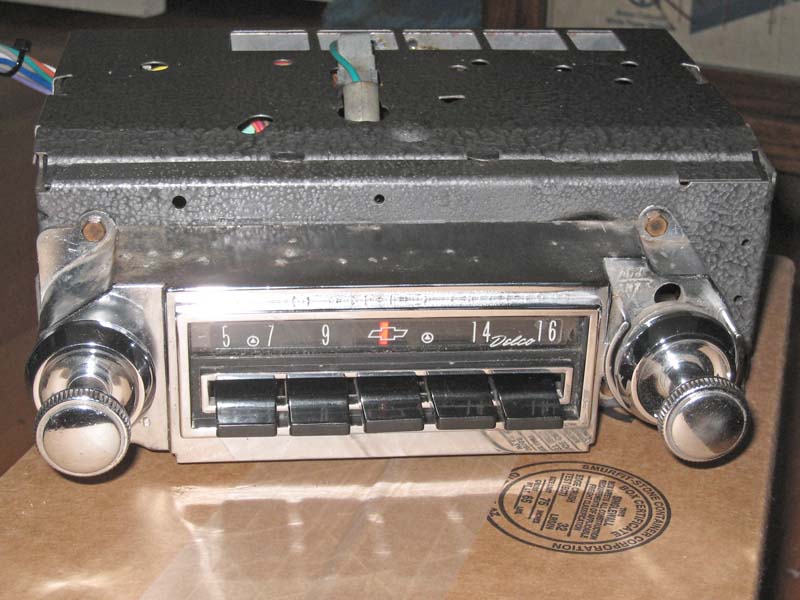 All the high tech stuff is the small green circuit board. I can't imagine it has much power, but I am planning on using my old Alpine 3528 amp, which has a REAL 45 watts x 4 channels rather than the 45 watts x 4 'peak power' this one claims.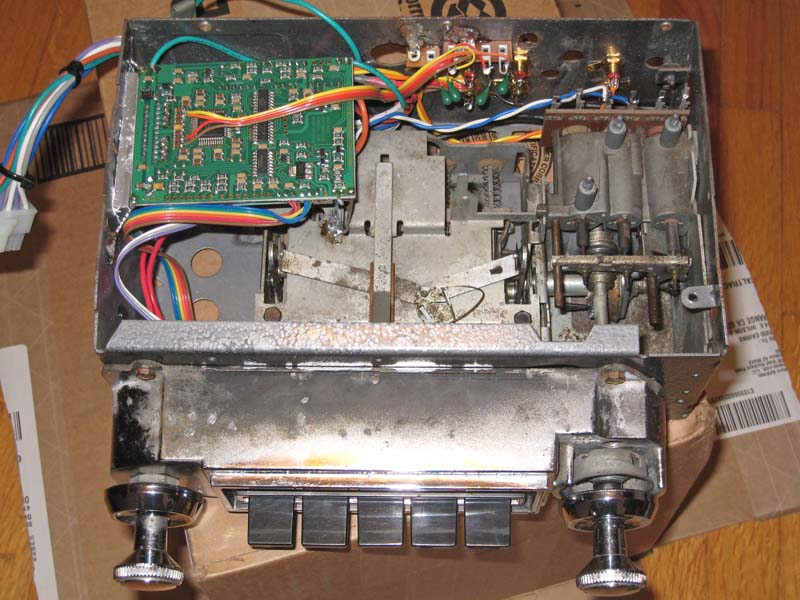 Jan 21st 2010 - Orange County Transmissions (octrans.net) finished building my new 700r4 transmission. This is their Stage 1 which is supposed to be fine up to around 450 hp.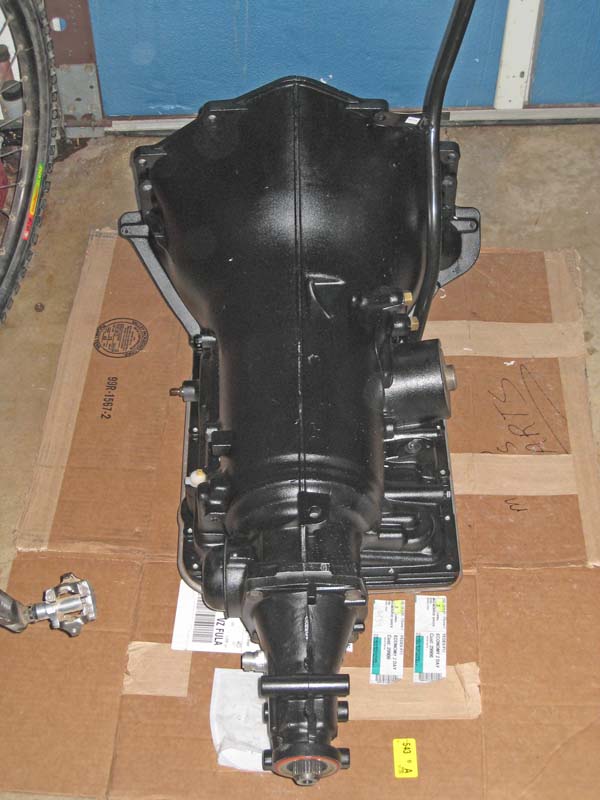 Aug 7th 2010 - Frame has been painted, and the front suspension parts are back from soda blasting and powder coating.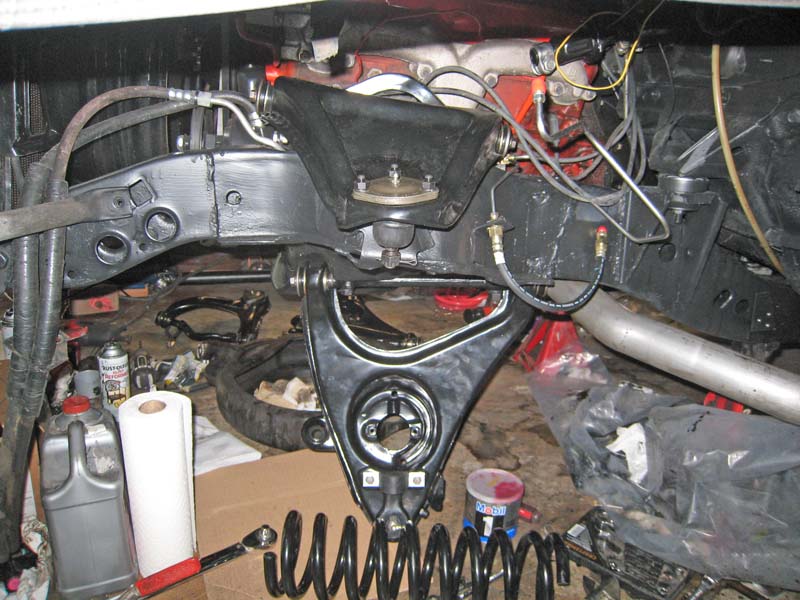 Pretty much all back together up front.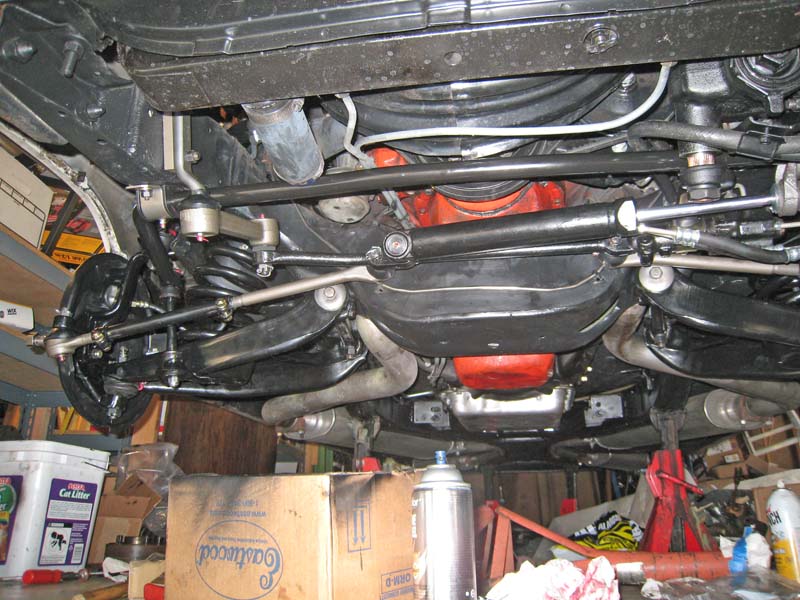 Got the differential rebuilt. New custom machined axles that will take the abuse that the old axles could not seem to handle. I have broken the axles and differential before.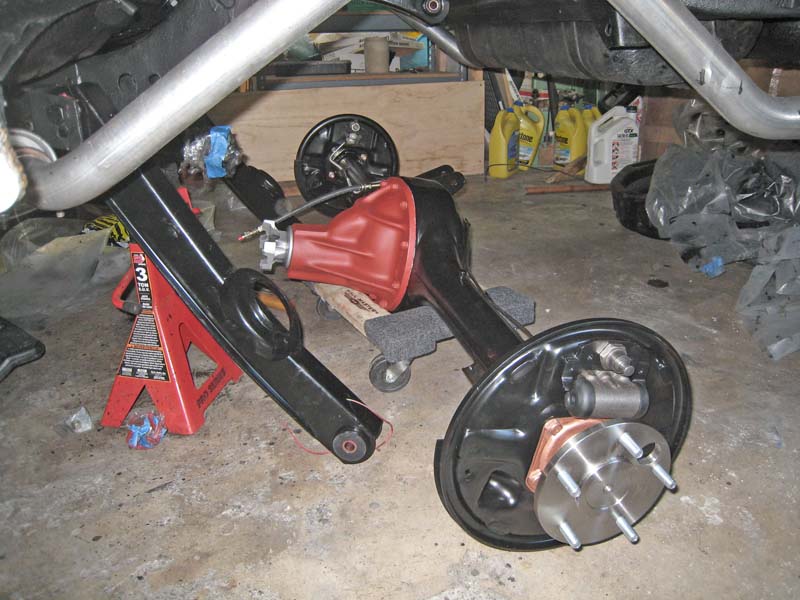 Aug 13th 2010 – Brake time.Entire brake system has been replaced. Everything was old and rusty and not to be trusted.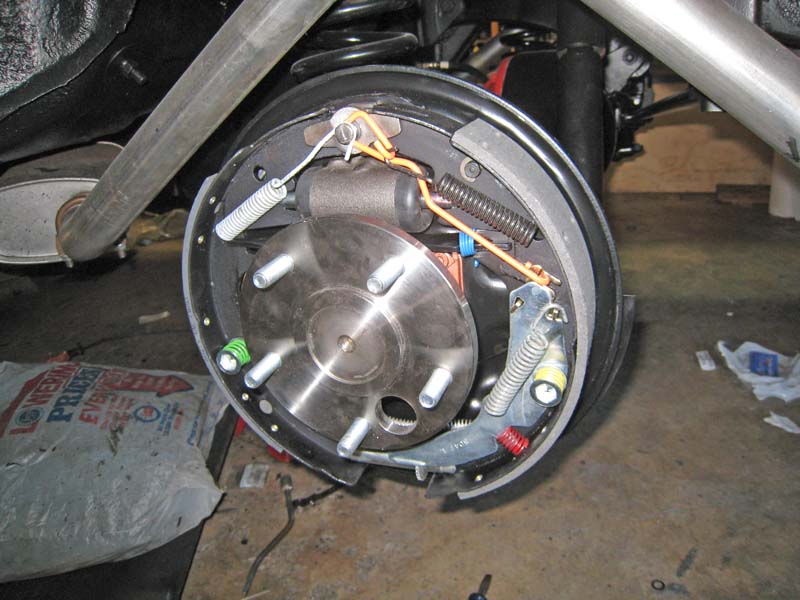 With the suspension and brakes back together, we took a trip in the Impala along the Southern California Coast. We stopped at the Queen Mary in Long Beach and I took this fun photo.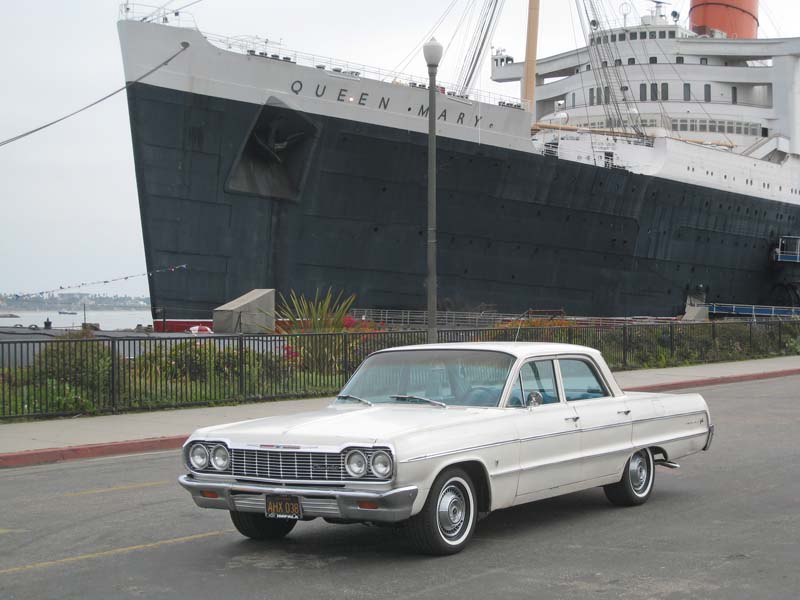 November 16th 2010 -Now it is time to address the engine. The existing engine is incorrect for the car, being a '69 350 engine. So a new engine is needed. Orange Engine will be doing the engine build. Jim Larr, the owner or Orange Engine, likes my somewhat odd idea of a stock looking 327 with 383 cubic inches and a few performance tricks to get even more power out of it. All while keeping it well mannered for more sedate driving.
It starts with a crusty old 1964 327 block. It has never been bored. Too bad it was stored outdoors, it will need a bore of .030 to .040 to clean up all the rust pits. It also has a burnt main bearing. Fortunately it did not damage the block, no cracks were found when magnafluxed.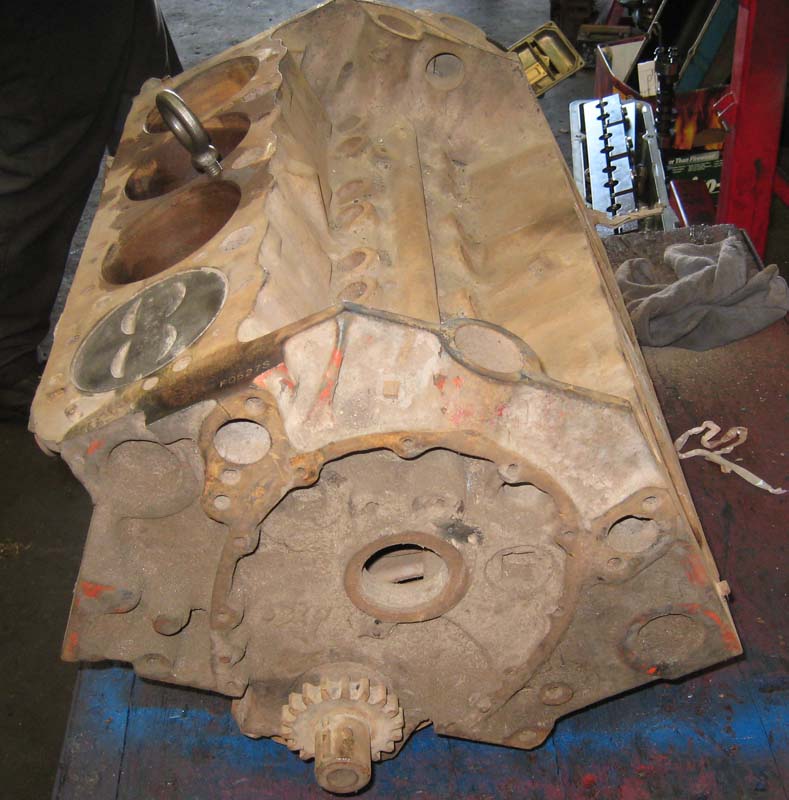 The finished engine. Looks like a stock 327 but has been bored and stroked to 383 for some extra power.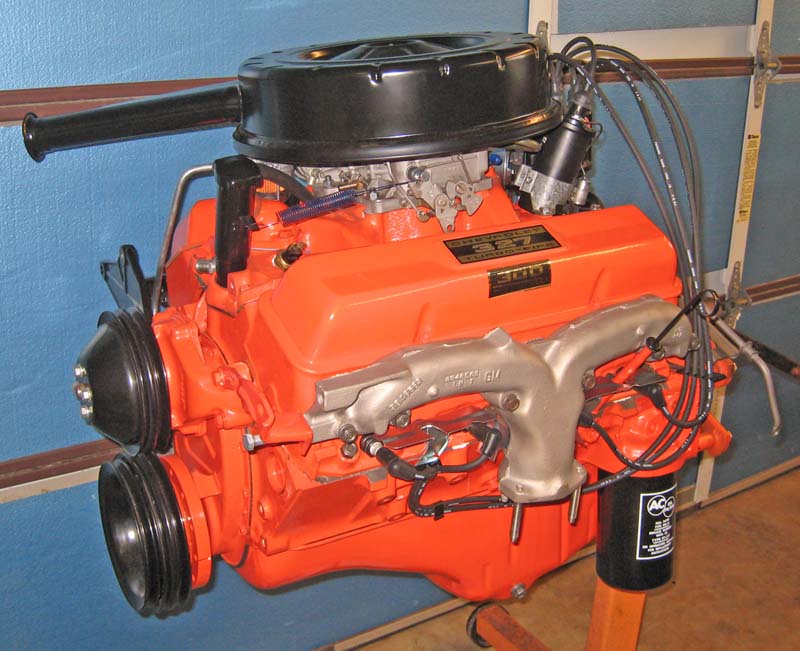 February 6th 2011 - With the engine done, it is time for the body shop to fix the rust and get all the body and trim straight and shiney. First the interior must be removed.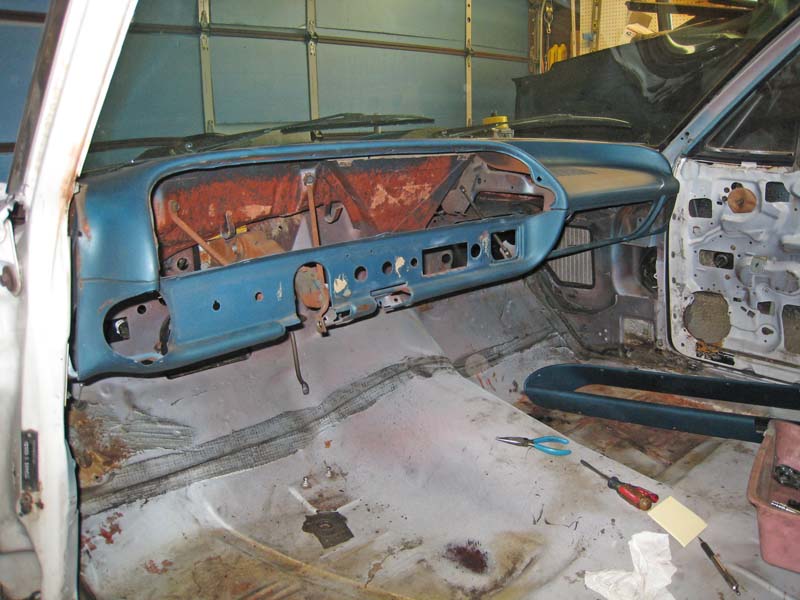 February 8th 2011 - Finally, the Impala is now at All Quality Collision and Restoration, it's new home for the next few months where Richard and his crew will be working their magic.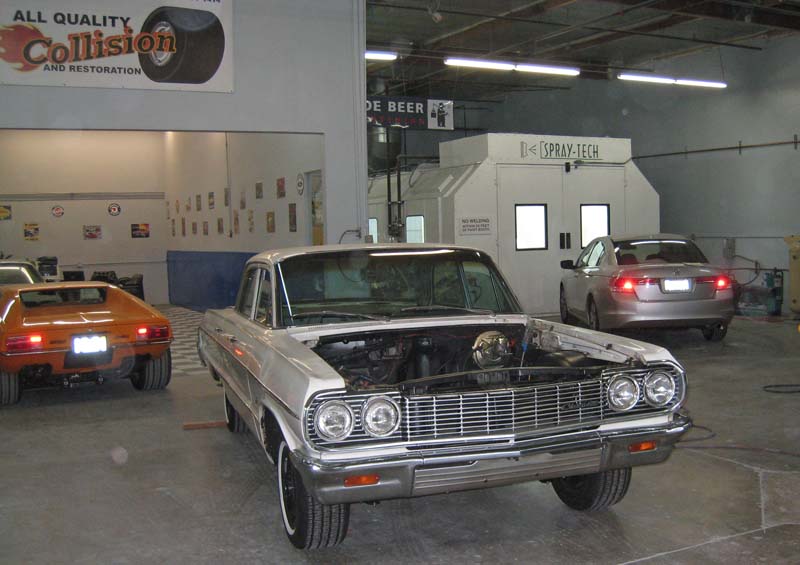 February 12th 2011 - Stripping the car down, the doors, fenders and trunk lid are off now.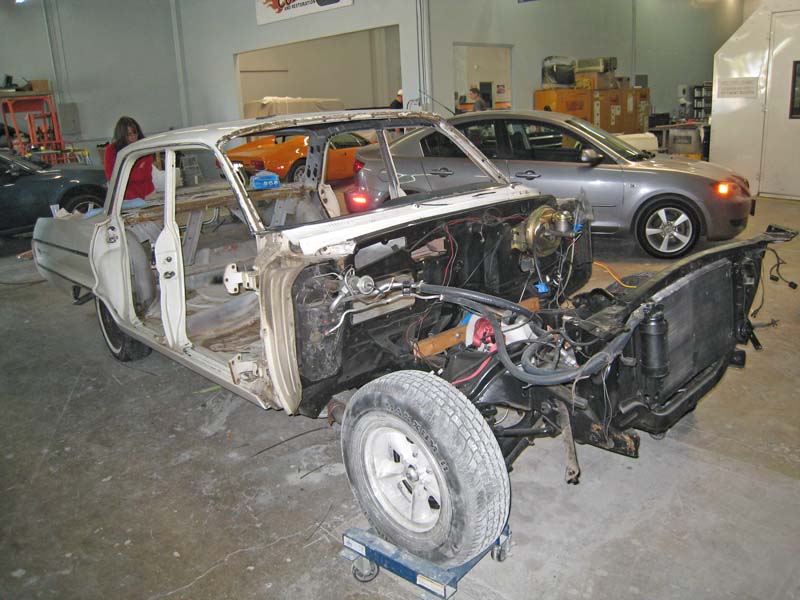 February 25th 2011 - The car is back from media blasting. Things look pretty good. One of the benefits of being a California car.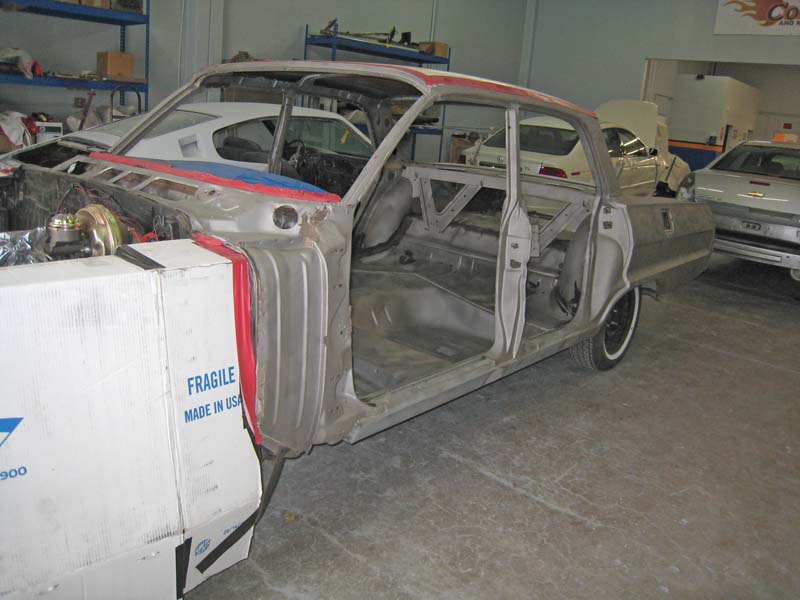 March 26th 2011 - New hood fitted, the old one was too rusty under the lip to be saved. Martin and the guys are doing all the fiddly work of getting things lined up and panel gaps even.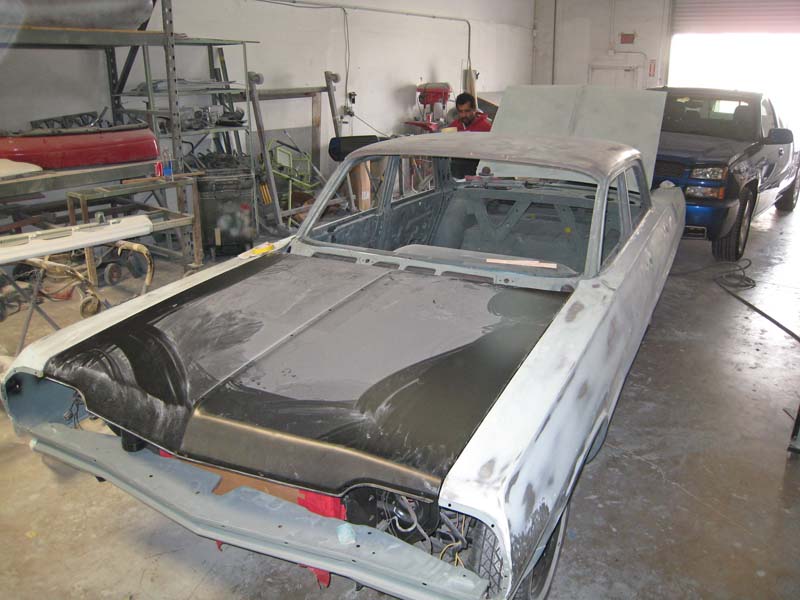 April 9th 2011 - The Impala in the paint booth for one of many primer/guide coats.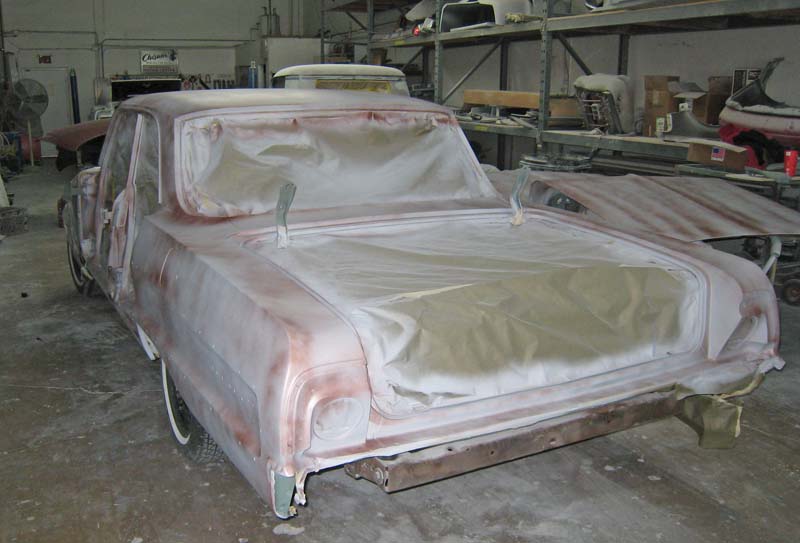 June 20th 2011 - Hood and fenders got their turn in the spray booth for the final color painting.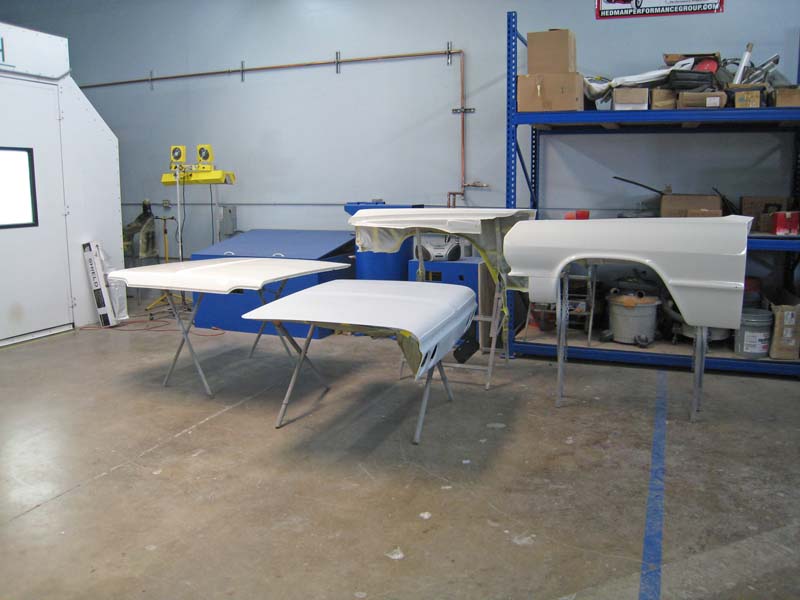 Carlos doing his thing. Not much fun to be stuck in a box wearing that outfit on a 94 degree day.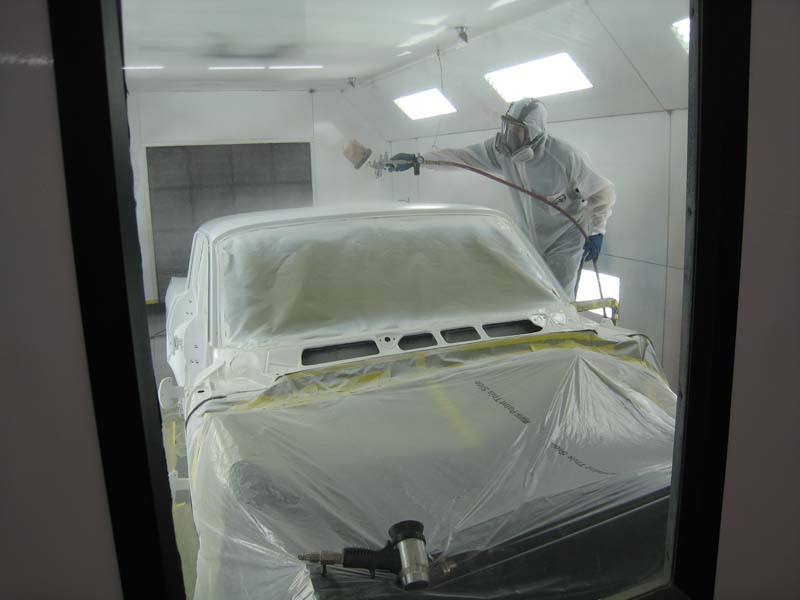 The body painted.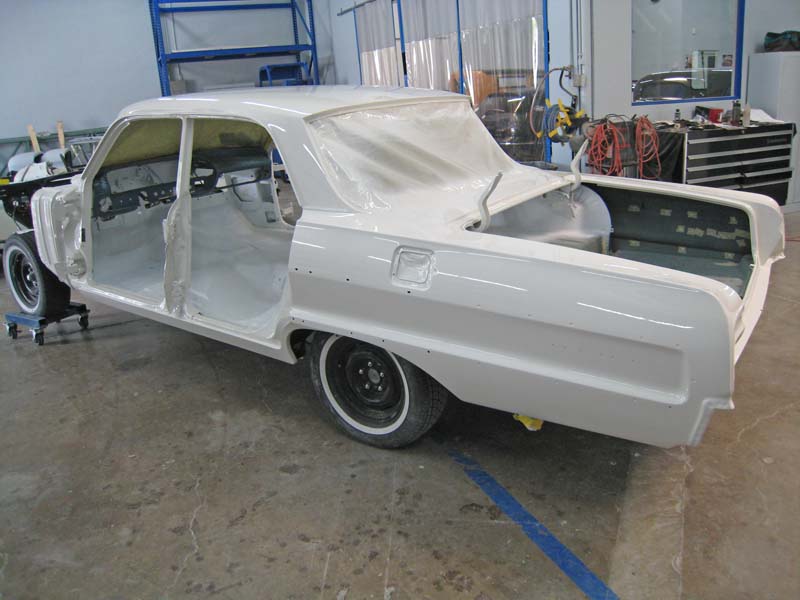 Taking advantage of the the time with the fenders off, the new engine is installed.
Agust 5th 2011 - The parts are being reassembled and it is starting to look like a car again.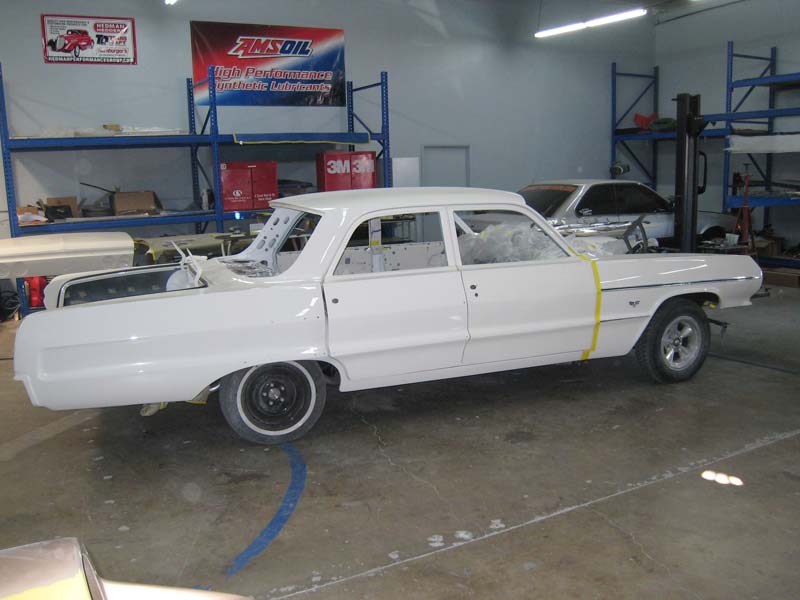 Back to the long version